Kafakumba Training Center, Zambia
We thank you for your business. We get to provide wonderful life experiences for our clients, and we also get the opportunity to give back to those in need. Each year we donate a percentage of our revenue to support the Kafakumba Training Center Preschool in Luanshya, Zambia. We are passionate about this organization and invite you to meet the children shown below.
This mission equips the people of Zambia with an understanding of the principles of the Kingdom of God to transform lives: Community, Servanthood, Focus on the least, Trusteeship, Nonviolence, Love, and Unity.
When you do business with CKIM Group, you get fantastic travel memories, but you also help support essential development projects. A portion of our yearly revenue is donated to the Kafakumba Training Center Preschool. This establishment results from years of work by John and Kendra Enright, who served as missionaries in Africa since 1973 and in Zambia since the war in the Congo forced them to shift their operations in 1999. Kafakumba offers an informal vocational school and a pastor's school in addition to the preschool and business projects such as fish farming, banana plantations, livestock, woodworking, beekeeping, and harvesting aloe vera, among others. Sadly, John Enright perished in an automobile accident near the end of 2017, but with your help, we can keep one small part of his legacy alive.
The work of the Enright family has transformed the Luanshya district from a mine dependency town to one of agriculture. John also worked to set up farming blocks along the Zambia/Democratic Republic of Congo border to revamp agriculture. In 2015 the beekeeping section alone contracted thousands of households, harvesting 150 tons of honey and paying out about $100,000 to smallholder farmers in the Miombo forests of Zambia. These operations can be continued and even expanded with the help of people like you. All you need to do is conduct business with CKIM Group, and we take care of the rest.
Preschool
2014 was the start of the preschool as an extension of the God's Kids ministry here at Kafakumba Training Center. There are at least ten at-risk children who come from primarily single-parent homes.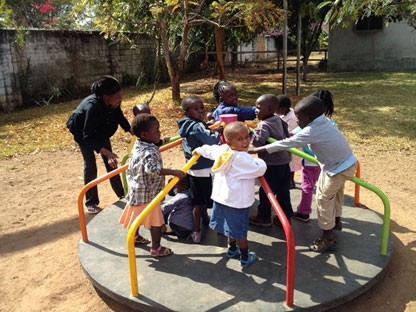 CKIM provides monthly financial support on behalf of its clients.
This is Ruth. She came to the preschool for two years and was a bit shy, but she has come out of her shell. She loves to be silly and, most of all, jump on the trampoline! Neither of her parents is employed, and her family struggles to get enough money to put food on the table. They will sometimes farm, but the land is expensive.
This is Jason. Since he was two years old, I have known him, so we have always been very close. He is one of the sweetest kids I have ever met, and he is always the first to raise his hands to answer a question. His English is the best in the class, but he also has this very goofy side that he loves to show off too. He is all together with a great kid. His mom and dad are divorced, so he goes to his dad's house on the weekends and to his mom during the week. His mom is a pastor struggling to find a job, and his dad is currently unemployed.
This is Lilian. She is a ray of sunshine. She is reticent, but it lights up your whole day whenever she smiles at you. She tries very hard in class to understand, but sometimes she struggles. Her mom casually works, but Lilian lives with her aunt. The dad is out of the picture because of his abusive relationship with the mom.
This is Ephram. He is also another one who always loves to burst out the answer to my questions, and if the answer isn't correct, he always tries again. He loves to run around and swing. He used to be terrified of white people, but now he sees me and runs at me with open arms. His dad is the leading painter for the center, and his mom does not work.
This is Rhoida. She has the most beautiful green eyes. Her giggle could cheer you up on your most challenging day. She loves to play tag and adores being tickled. Her mom is alive but has nothing to do with her. The dad left the mom right after she was born. So now the grandma takes care of her, and she is getting ancient and soon she will be unable to work.
This is Matilda. She just joined the preschool this past year and she is trying so hard to catch up with her friends. I do not think I have ever seen her without a smile on her face. She is behind because she is new but she tries very hard. Her mom works with the aloe in the center and her dad works for another local missionary here.
This is Amos. He is pretty indescribable. He is the naughtiest little boy, but at the same time, he has a heart of gold. We think he might have a learning disability due to his lack of focus. He gives the best hugs on earth and smiles at the drop of a hat. His parents are not divorced but they separate often due to conflict. Neither of the parents works so it is a struggle to get enough money for food.
This is Corina. She is not part of the preschool yet because she is only 3 years old, but she attends this week every day because her grandmother is one of the teachers. Corina's mom was in 9th grade when she had her and is in 10th grade now because she got held back. Now the grandmother has to look after and support her daughter and granddaughter. She is barely making ends meet with her teaching salary, trying to pay for her daughter's school fees and food.
This is John he is also new. He is the tallest of the bunch. He is timid, but he is just beginning to come out of his shell. He loves to give hugs and play with blocks the most. He is an orphan and lives with his grandma. But his grandma is too old to work, so there is no income for the family; hence a cousin is helping out.
This is Bright. He has a very colorful personality and is very naughty and goofy. He is so kind, though. He was sick in this picture, and he was a trooper for smiling. His mom doesn't work, and his dad is not involved in his life.