European Yacht Charters are an incredible way to see all this part of the globe has to offer. Wander through historic sites in Italy, explore uninhabited islands along the Dalmatian coast or island hop in Greece. There are tons of exciting places to visit on a European Yacht Charter Vacation.
Croatia
The unforgettable Croatian coastline is a world-class yachting destination. Its turquoise waters, lush forests, unspoiled islands, dramatic cliffs, and quaint towns beckon the adventurous. Lively cities such as Pula and Split offer plenty of activity, from ancient ruins to vibrant nightlife and festivals.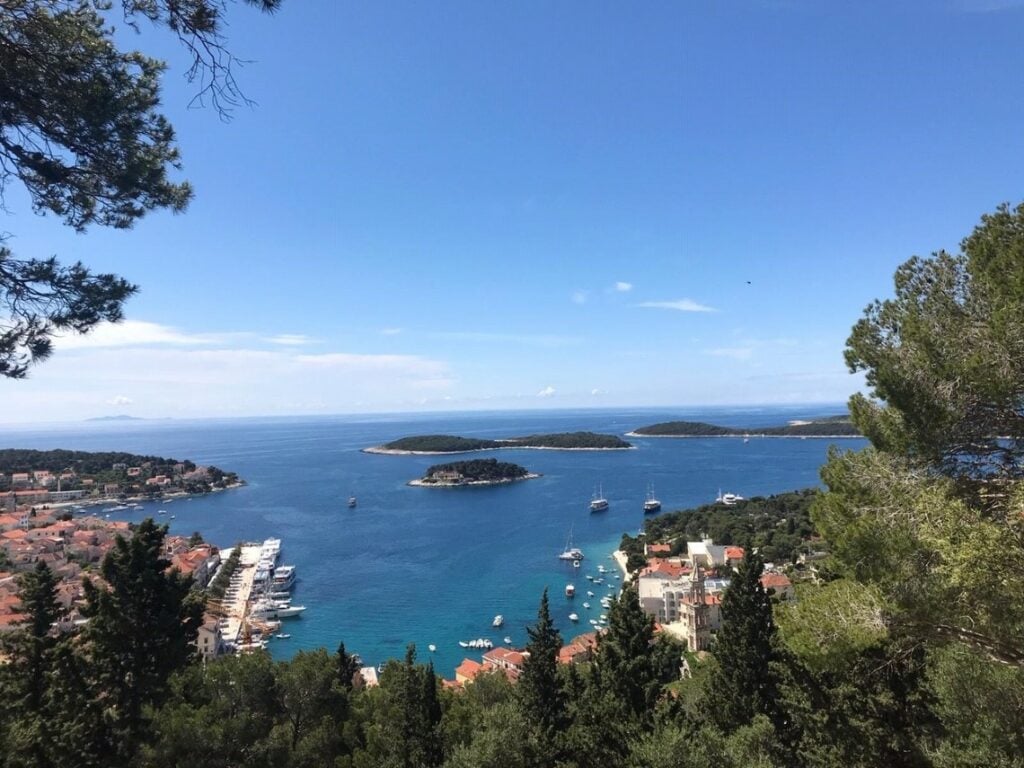 Northern Croatia's Istrian Peninsula, all the way to the Dalmatian Islands in the south, offer yacht charter guests the ability to choose their own adventure. Vineyards can be found just inland from the coast, while Roman and Venetian ruins are scattered along many seaside towns and cities like Zadar.
Croatia's Adriatic Sea also boasts many small islands, some of which form national parks like Kornati. Between Split and Dubrovnik you can also sail through beautiful green islands of Hvar, Vis, Brac and Korcula. Beaches like the Golden Horn are perfect for relaxing and windsurfing, while premiere vineyards and olive groves await you further ashore.
European Yacht Charters | Greece
Waters that were once sailed upon by the ancients are now popular for modern boaters. Visit iconic places such as Crete, Rhodes, Santorini, Mykonos, and more. Five groups of islands comprise the southern reaches of Greece, all with their own distinct character. The Cyclades offer vast entertainment, while the Ionian feel uniquely Italian.
Close to Turkey, you can sail to the Dodecanese Islands, rich in history and mythology. Beautiful beaches and ancient cathedrals can be found throughout the islands. Water sports, snorkeling and swimming are also great ways to pass time in between incredible Greek meals. With so much diversity and culture, its hard to go wrong with one of our European yacht charters to Greece.
European Yacht Charters Italy
Fall in love with Italy's coastline, whether you charter the Amalfi Coast, Sicily, or Sardinia. For the former, you can start your adventure in Naples, under the shadow of Mt. Vesuvius. Take in the fragrance (pizza), and energy of the city before venturing around the Sorrento Peninsula to the Amalfi Coast and Capri. Blue grottos and charming seaside homes will welcome you as much as the friendly hospitality of the locals.
More adventure awaits you in Sicily, where you can tour Mt. Etna or visit a Greco-Roman amphitheater in nearby Taormina. Off Sicily's northeastern coast, island hop between the volcanic Aeolian Islands or go wine tasting on the cape of Milazzo. In Sardinia, you're in store for emerald seas, luxurious marinas and quiet beaches.
France
Get a unique perspective of the French coastline from the deck of your private yacht charter. This yachting destination includes places like Cannes, Monaco, and St Tropez. The South of France features some of the most luxurious marinas, and extraordinary nightlife in the Mediterranean. Extravagant villas line the streets of these historic cities, which now play host to iconic film and art festivals. This area, otherwise known as the French Riviera is also home to wild islands for diving, and inland trekking excursions.
Turkey
Cruise the Turkish Riviera and see why it is nicknamed the Turquoise Coast. The color of the water bordering the Mediterranean and Aegean seas is just that color — turquoise! Here, the past and the present meet in towns like Bodrum. You can not only learn about the history of the area but also spend some "me" time at a wonderful spa. In addition, Turkey has a plethora of outdoor activities, ranging from scuba diving, to horseback riding, and windsurfing. From the dynamic city of Istanbul, to the waterfalls and Carian tombs, a yacht charter to Turkey is a paradise for the curious minded.
Malta
Malta, a destination with abundant marine life and many shipwrecks, is a fantastic destination for scuba enthusiasts. In addition to water activities, Malta also offers land-based culture, dining, and shopping. Visit remote beaches only accessible by boat, and anchor in your own private cove. Choose to partake in as much or little entertainment as you wish while visiting Malta's pristine waters.
Contact or call at (321) 777-1707 for more information on European Yacht Charters Vacations.