---
Boat Details
| | |
| --- | --- |
| Cabins: | 4 |
| Queen: | 2 |
| Single Cabins: | 1 |
| Showers: | 4 |
| Wash Basins: | 6 |
| Heads: | 5 |
| Electric Heads: | 5 |
Pick Up Locations
| | |
| --- | --- |
| Pref. Pick-up: | Bahamas |
| Other Pick-up: | - |
---
Details
| | |
| --- | --- |
| Refit: | 2019 |
| Helipad: | Yes |
| Jacuzzi: | Yes |
| A/C: | Full |
Engine Details
2 x 800hp MAN R6 (approx 105 liters per hour /30 gal per hour including generators @ 12 kts) 32kW Kohler Gen
Fuel Consumption:
30
Cruising Speed:
12
Max Speed:
22US Gall/Hr
Locations
| | |
| --- | --- |
| Winter Area: | Bahamas |
| Summer Area: | - |
---
Amenities
| | |
| --- | --- |
| Salon Tv/VCR: | Yes |
| Salon Stereo: | Yes |
| Sat Tv: | Pepwave centralized WiFi (when available) |
| # of Videos: | - |
| # DVDs/Movies: | Yes |
| # CD's: | - |
| Camcorder: | - |
| Books: | - |
| Board Games: | - |
| Sun Awning: | Yes |
| Deck Shower: | Yes |
| Bimini: | - |
| Water Maker: | 2 watermak |
| | |
| --- | --- |
| Special Diets: | Inq |
| Kosher: | Inq |
| BBQ: | Yes |
| # Dine In: | Yes |
| Minimum Age: | - |
| Generator: | Kohler 32KW |
| Inverter: | - |
| Voltages: | - |
| Water Maker: | 2 watermak |
| Water Cap: | - |
| Ice Maker: | Yes |
| Sailing Instructions: | - |
| Internet Access: | Onboard WIFI |
| | |
| --- | --- |
| Gay Charters: | Inq |
| Nude: | Inq |
| Hairdryers: | Yes |
| # Port Hatches: | Yes |
| Guests Smokes: | Designated Areas Only |
| Crew Smokes: | Inq |
| Pets Aboard: | No |
| Pet Type: | - |
| Guest Pets: | No |
| Children Ok: | Yes |
| Hammock: | - |
| Windscoops: | - |
---
Water Sports
| | |
| --- | --- |
| Dinghy size: | 25' Sea Hunt 2019 model |
| Dinghy hp: | 300HP |
| Dinghy # pax: | 10 |
| Water Skis Adult: | Yes |
| Water Skis Kids: | - |
| Jet Skis: | - |
| Wave Runners: | 2 |
| Kneeboard: | - |
| Windsurfer: | - |
| Snorkel Gear: | Yes |
| Tube: | Yes |
| | |
| --- | --- |
| Scurfer: | - |
| Wake Board: | Yes |
| Kayaks 1 Pax: | - |
| Kayaks (2 Pax): | 2 |
| Floating Mats: | Yes |
| Swim Platform: | Yes |
| Boarding Ladder (Loc/Type): | 2 port and starboard |
| Sailing Dinghy: | - |
| Beach Games: | Yes |
| Fishing Gear: | Yes |
| Gear Type: | - |
| Rods: | - |
CAPTAIN | Maoz (Chino) Chonowitz
NATIONALITY: Israeli / Lithuanian

BIO: Captain Chino has always had a passion for travel and the water. He grew up in a small village in Israel surrounded by rivers and nature. As a young adult, restless and ready to travel, Chino took off to Africa for a year and decided that he needed to pursue a career that had a combination of work and travel. While in Cape Town, South Africa, he was exposed to the yachting industry and the prospect of becoming a charter yacht captain. Chino returned home with a dream to sail in the Caribbean. He received his 100T Captain's license and began working for a charter company running sailing charters in the Mediterranean.
Chino is an experienced Captain with great patience and is always keen to teach others how to sail. He is an avid fisherman with loads of knowledge in fish preparation, having worked in aquaculture for a year. He loves nothing more than to assist guests with fishing from the yacht, offering a sea-to-table experience with the catch of the day.

CHEF | Noa Neumann
NATIONALITY: Israeli / German

BIO: Noa grew up in the mountains of Jerusalem and as a child she always enjoyed water sports and swimming. She comes from a huge family with her favorite pastime being large gatherings at the dinner table for meals on the weekends. Since the age of 16, she has worked in restaurants and coffeeshops as a waitress, bartender, and manager. She loves the hospitality industry and it's a huge part of her personality.
As a young adult she traveled to the US, Central America, and the Caribbean for 12 months. She then completed her degree in social work, met Captain Chino and made the wonderful decision to join him.

TOGETHER: After Noa and Chino met, they were offered an opportunity to work together in the Caribbean. Starting in St. Vincent and the Grenadines for a year before transiting to the Northern Caribbean for another 1.5 years. Together they have completed more than 50 charters running up to 12 guests. Both Chino and Noa are positive, friendly, and engaging individuals who work extremely well together, ensuring that you will have a 5-star experience with great food, excellent service and tons of fun. Both of them are PADI SCUBA divemaster's, love games, sports and exercise, and are more than willing to lead guests in workout sessions (with or without equipment) while onboard. Chino and Noa can't wait to have you onboard SAMARA and share this beautiful destination with you.


MATE | Wade Visser
NATIONALITY: South African

Wade grew up in a small coastal town on the east coast of South Africa called Shelly Beach. Shelly Beach is an avid fishing town which has some of the best reefs to dive with sharks. Wade has an extensive fishing knowledge due to growing up fishing on his father's boat and has won multiple competitions as a junior angler.
After graduating high school, Wade decided to expand his love for the ocean by qualifying as a Master Scuba Diver Trainer in Sodwana Bay. Sodwana Bay has some of the best reefs in South Africa. Wade has gained a vast knowledge of fish from diving and also starting his own business breeding fresh water fish to supply local pet shops during the pandemic.
Wade has a love for exploration which helped him discover the yachting industry and land his first full time position on M/Y Samara. With a big smile and bubbly personality Wade hopes to make your trip on Samara an unforgettable adventure that you'll remember for many years to come!


STEW| Tara Shay Jones
NATIONALITY: American
Tara Shay Jones lives on Tybee Island, Georgia. She grew up on the coastal outskirts of Savannah with Mom, Dad, and four sisters. This is Tara's fourth season in the charter business. Her love for adventure and flare of southern hospitality are a unique combination for providing guests with once in a lifetime experiences.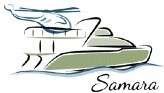 (15 December -30 April)
Bahamas
| | | | | | | | | | | | | | | | | | | | | | | | | | | | | | | | |
| --- | --- | --- | --- | --- | --- | --- | --- | --- | --- | --- | --- | --- | --- | --- | --- | --- | --- | --- | --- | --- | --- | --- | --- | --- | --- | --- | --- | --- | --- | --- | --- |
| Apr 2023 | 1 | 2 | 3 | 4 | 5 | 6 | 7 | 8 | 9 | 10 | 11 | 12 | 13 | 14 | 15 | 16 | 17 | 18 | 19 | 20 | 21 | 22 | 23 | 24 | 25 | 26 | 27 | 28 | 29 | 30 | |
| May 2023 | 1 | 2 | 3 | 4 | 5 | 6 | 7 | 8 | 9 | 10 | 11 | 12 | 13 | 14 | 15 | 16 | 17 | 18 | 19 | 20 | 21 | 22 | 23 | 24 | 25 | 26 | 27 | 28 | 29 | 30 | 31 |
| Jun 2023 | 1 | 2 | 3 | 4 | 5 | 6 | 7 | 8 | 9 | 10 | 11 | 12 | 13 | 14 | 15 | 16 | 17 | 18 | 19 | 20 | 21 | 22 | 23 | 24 | 25 | 26 | 27 | 28 | 29 | 30 | |
| Jul 2023 | 1 | 2 | 3 | 4 | 5 | 6 | 7 | 8 | 9 | 10 | 11 | 12 | 13 | 14 | 15 | 16 | 17 | 18 | 19 | 20 | 21 | 22 | 23 | 24 | 25 | 26 | 27 | 28 | 29 | 30 | 31 |
| Aug 2023 | 1 | 2 | 3 | 4 | 5 | 6 | 7 | 8 | 9 | 10 | 11 | 12 | 13 | 14 | 15 | 16 | 17 | 18 | 19 | 20 | 21 | 22 | 23 | 24 | 25 | 26 | 27 | 28 | 29 | 30 | 31 |
| Sep 2023 | 1 | 2 | 3 | 4 | 5 | 6 | 7 | 8 | 9 | 10 | 11 | 12 | 13 | 14 | 15 | 16 | 17 | 18 | 19 | 20 | 21 | 22 | 23 | 24 | 25 | 26 | 27 | 28 | 29 | 30 | |
| Oct 2023 | 1 | 2 | 3 | 4 | 5 | 6 | 7 | 8 | 9 | 10 | 11 | 12 | 13 | 14 | 15 | 16 | 17 | 18 | 19 | 20 | 21 | 22 | 23 | 24 | 25 | 26 | 27 | 28 | 29 | 30 | 31 |
| Nov 2023 | 1 | 2 | 3 | 4 | 5 | 6 | 7 | 8 | 9 | 10 | 11 | 12 | 13 | 14 | 15 | 16 | 17 | 18 | 19 | 20 | 21 | 22 | 23 | 24 | 25 | 26 | 27 | 28 | 29 | 30 | |
| Dec 2023 | 1 | 2 | 3 | 4 | 5 | 6 | 7 | 8 | 9 | 10 | 11 | 12 | 13 | 14 | 15 | 16 | 17 | 18 | 19 | 20 | 21 | 22 | 23 | 24 | 25 | 26 | 27 | 28 | 29 | 30 | 31 |
| Jan 2024 | 1 | 2 | 3 | 4 | 5 | 6 | 7 | 8 | 9 | 10 | 11 | 12 | 13 | 14 | 15 | 16 | 17 | 18 | 19 | 20 | 21 | 22 | 23 | 24 | 25 | 26 | 27 | 28 | 29 | 30 | 31 |
| Feb 2024 | 1 | 2 | 3 | 4 | 5 | 6 | 7 | 8 | 9 | 10 | 11 | 12 | 13 | 14 | 15 | 16 | 17 | 18 | 19 | 20 | 21 | 22 | 23 | 24 | 25 | 26 | 27 | 28 | 29 | | |
| Mar 2024 | 1 | 2 | 3 | 4 | 5 | 6 | 7 | 8 | 9 | 10 | 11 | 12 | 13 | 14 | 15 | 16 | 17 | 18 | 19 | 20 | 21 | 22 | 23 | 24 | 25 | 26 | 27 | 28 | 29 | 30 | 31 |
---