---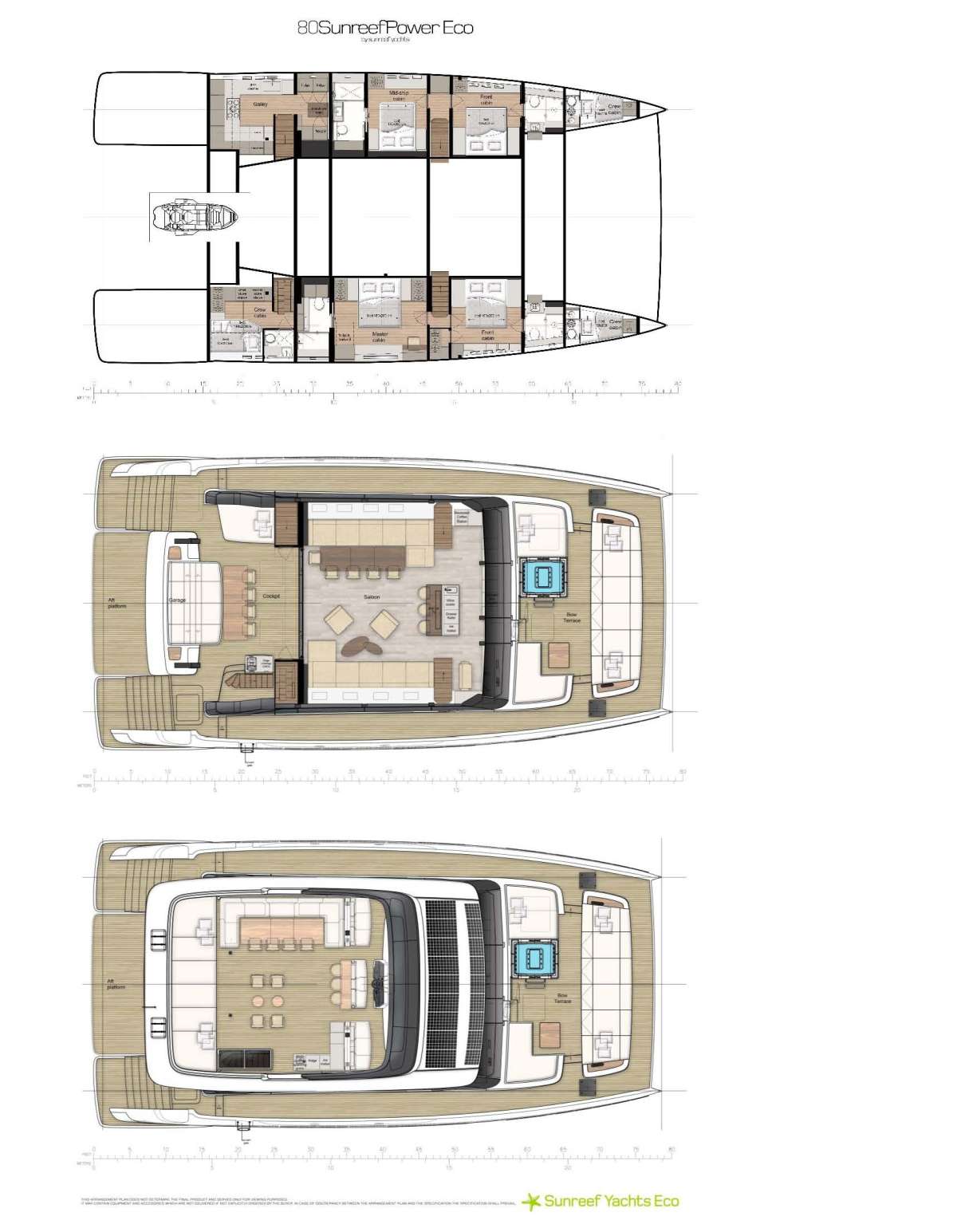 Boat Details
| | |
| --- | --- |
| Cabins: | 4 |
| Queen: | 3 |
| Single Cabins: | 1 |
| Showers: | 4 |
| Wash Basins: | 4 |
| Heads: | 4 |
| Electric Heads: | 4 |
Pick Up Locations
| | |
| --- | --- |
| Pref. Pick-up: | BVI |
| Other Pick-up: | Bahamas, Caribbean itineraries |
---
Details
| | |
| --- | --- |
| Refit: | - |
| Helipad: | No |
| Jacuzzi: | Yes |
| A/C: | Full |
Engine Details
-
Fuel Consumption:
-
Cruising Speed:
-
Max Speed:
-
Locations
| | |
| --- | --- |
| Winter Area: | Caribbean Virgin Islands (BVI) |
| Summer Area: | Bahamas, Caribbean Leewards, Caribbean Windwards, Caribbean Virgin Islands (BVI) |
---
Amenities
| | |
| --- | --- |
| Salon Tv/VCR: | Yes |
| Salon Stereo: | Yes |
| Sat Tv: | - |
| # of Videos: | - |
| # DVDs/Movies: | STREAM |
| # CD's: | Yes |
| Camcorder: | Yes |
| Books: | - |
| Board Games: | Yes |
| Sun Awning: | Yes |
| Deck Shower: | Yes |
| Bimini: | Yes |
| Water Maker: | Yes |
| | |
| --- | --- |
| Special Diets: | Yes |
| Kosher: | Inq |
| BBQ: | Yes |
| # Dine In: | 8 |
| Minimum Age: | Water Safe |
| Generator: | Yes X2 |
| Inverter: | - |
| Voltages: | 110 MAIN & 220 |
| Water Maker: | Yes |
| Water Cap: | 400G |
| Ice Maker: | Yes |
| Sailing Instructions: | - |
| Internet Access: | Onboard WIFI |
| | |
| --- | --- |
| Gay Charters: | Yes |
| Nude: | Inq |
| Hairdryers: | Yes |
| # Port Hatches: | Yes |
| Guests Smokes: | Aft Sugar Scoops |
| Crew Smokes: | Inq |
| Pets Aboard: | No |
| Pet Type: | - |
| Guest Pets: | No |
| Children Ok: | Yes |
| Hammock: | - |
| Windscoops: | - |
---
Water Sports
| | |
| --- | --- |
| Dinghy size: | 16ft Jet Drive |
| Dinghy hp: | 130 |
| Dinghy # pax: | 10 |
| Water Skis Adult: | Yes |
| Water Skis Kids: | Yes |
| Jet Skis: | No |
| Wave Runners: | - |
| Kneeboard: | - |
| Windsurfer: | - |
| Snorkel Gear: | Yes |
| Tube: | Yes |
| | |
| --- | --- |
| Scurfer: | - |
| Wake Board: | Yes |
| Kayaks 1 Pax: | - |
| Kayaks (2 Pax): | - |
| Floating Mats: | 1 |
| Swim Platform: | Aft Platform |
| Boarding Ladder (Loc/Type): | - |
| Sailing Dinghy: | - |
| Beach Games: | - |
| Fishing Gear: | Yes |
| Gear Type: | Trolling / zcasting |
| Rods: | 2 Trolling / 1 Casting |
CAPTAIN
Captain Jack was born and raised in Maryland sailing the waters of the Chesapeake. He started sailing as a young boy with his father. He studied at the University of Maryland and served in the US Navy. Jack has a bachelor's degree from the University of Maryland and was trained in the Navy's Nuclear Power Program were he served on Submarines.
After leaving the Navy, Jack worked as a Nuclear Engineering consultant for 14 years during which time he obtained a Master's in Business Administration from Johns Hopkins University. Jack built sea miles in the Navy, and doing deliveries and passages throughout his years in the corporate world. Finally, Jack decided to fulfill his lifelong dream of being a sea Captain and left the US. Jack sailed, single handed, across the Atlantic and has completed many other crossings and long distance deliveries. Jack has also skippered numerous recreational vessels, including day sail vessels, dive boats, as well as working on Tall Ships.
Jack is passionate about being on the water. He has spent the past 12 years in the Caribbean working in the private yacht industry, running day charters and Captaining term charter vessels with up to 10 guests. Jack is also qualified Dive Master.

Jack has a contagious joy for life. If you are looking for a fun, exhilerating yet luxurious vacation that is exactly what you will get with the SOL team.

CHEF
Mallory grew up in Kawkawlin, Michigan spending her summers sailing on the Great lakes. She graduated from Johnson and Wales University with a degree in Hotel and Restaurant management and a concentration in Sales, meeting and event management. After graduation she managed a romantic Inn in Asheville, NC, anf went on to manage and chef in restaurants, catering companies and restaurant development. She loves to sail, free dive, water ski, scuba, and cook and travel.

She has been a successful yacht chef since 2013 and obtained her Yachtmaster, Aida 2 Free diving certification and Rescue scuba Diving during this time.

CHEF
Sara was born and raised on a farm in North Dakota. Although seemingly landlocked she enjoyed spending summers at the family lake cabin in nearby Minnesota.

Her parents raised her amongst many friends and family, always entertaining guests. Instilling a warm sense of hospitality in her personality from a young age.

Having been raised on a farm, surrounded by agriculture and produce from the garden, her relationship with food has always been an important one. She is passionate about knowing where food comes from, and sources the freshest, locally grown produce and freshly caught fish.

With over 6 years experience cooking aboard yachts, a yacht chef certificate, and a year cooking privately land-based, Sara is thrilled and ready to welcome guests aboard Sol for a sensory experience.

STEWARDESS
Blake is a native of Minneapolis, Minnesota. She grew up spending time cruising the many beautiful lakes and developing a respect for the outdoors. She graduated from the University of St. Thomas where she studied business management and the Spanish language. With dreams of seeing a different part of the world (and a chance encounter with a group of awesome seafarers while traveling Europe), she would move to Croatia every summer to work as a chef/sole stewardess on small sailing boats, a position she enjoyed for 3 summers. She loved it so much she decided to move to the Caribbean and make it her career.
Blake is elated to now be joining the Sol team. Her pleasant, "Minnesota Nice" demeanor and charming personality make her a wonderful Stewardess, ready to greet and care for guests. She loves to whip up cocktails, share wild travel stories, and will make you feel right at home!

ENGINEER/DECK
Caroline grew up on the beach in Massachusetts, developing her love for the ocean and sailing as early as she can remember. After receiving her degree from Bridgewater State University, Caroline's wanderlust took over and her passion for traveling began. Eight years ago she moved to St. Thomas and has been working in the charter industry ever since. From day sails to luxury term charters, Caroline has worked on a multitude of vessels sharing her love for sailing, water sports, and the Caribbean Sea with her guests.
Besides travel and sailing, Caroline's other great passion in life is Yoga. She received her 200tn RYT certification in Thailand and has been teaching multiple styles of yoga for the past five years. She is thrilled to offer a yoga program and to create custom classes onboard M/V Sol.
When Caroline is not sailing or doing yoga, she loves to hike, snorkel and create art. As your tour guide she loves to immerse you in the natural beauty of the islands and share her love of exploring connecting to nature.


(15 December -30 April)
Caribbean Virgin Islands (BVI)
(1 May - 14 December)
Bahamas, Caribbean Leewards, Caribbean Windwards, Caribbean Virgin Islands (BVI)
| | | | | | | | | | | | | | | | | | | | | | | | | | | | | | | | |
| --- | --- | --- | --- | --- | --- | --- | --- | --- | --- | --- | --- | --- | --- | --- | --- | --- | --- | --- | --- | --- | --- | --- | --- | --- | --- | --- | --- | --- | --- | --- | --- |
| Dec 2023 | 1 | 2 | 3 | 4 | 5 | 6 | 7 | 8 | 9 | 10 | 11 | 12 | 13 | 14 | 15 | 16 | 17 | 18 | 19 | 20 | 21 | 22 | 23 | 24 | 25 | 26 | 27 | 28 | 29 | 30 | 31 |
| Jan 2024 | 1 | 2 | 3 | 4 | 5 | 6 | 7 | 8 | 9 | 10 | 11 | 12 | 13 | 14 | 15 | 16 | 17 | 18 | 19 | 20 | 21 | 22 | 23 | 24 | 25 | 26 | 27 | 28 | 29 | 30 | 31 |
| Feb 2024 | 1 | 2 | 3 | 4 | 5 | 6 | 7 | 8 | 9 | 10 | 11 | 12 | 13 | 14 | 15 | 16 | 17 | 18 | 19 | 20 | 21 | 22 | 23 | 24 | 25 | 26 | 27 | 28 | 29 | | |
| Mar 2024 | 1 | 2 | 3 | 4 | 5 | 6 | 7 | 8 | 9 | 10 | 11 | 12 | 13 | 14 | 15 | 16 | 17 | 18 | 19 | 20 | 21 | 22 | 23 | 24 | 25 | 26 | 27 | 28 | 29 | 30 | 31 |
| Apr 2024 | 1 | 2 | 3 | 4 | 5 | 6 | 7 | 8 | 9 | 10 | 11 | 12 | 13 | 14 | 15 | 16 | 17 | 18 | 19 | 20 | 21 | 22 | 23 | 24 | 25 | 26 | 27 | 28 | 29 | 30 | |
| May 2024 | 1 | 2 | 3 | 4 | 5 | 6 | 7 | 8 | 9 | 10 | 11 | 12 | 13 | 14 | 15 | 16 | 17 | 18 | 19 | 20 | 21 | 22 | 23 | 24 | 25 | 26 | 27 | 28 | 29 | 30 | 31 |
| Jun 2024 | 1 | 2 | 3 | 4 | 5 | 6 | 7 | 8 | 9 | 10 | 11 | 12 | 13 | 14 | 15 | 16 | 17 | 18 | 19 | 20 | 21 | 22 | 23 | 24 | 25 | 26 | 27 | 28 | 29 | 30 | |
| Jul 2024 | 1 | 2 | 3 | 4 | 5 | 6 | 7 | 8 | 9 | 10 | 11 | 12 | 13 | 14 | 15 | 16 | 17 | 18 | 19 | 20 | 21 | 22 | 23 | 24 | 25 | 26 | 27 | 28 | 29 | 30 | 31 |
| Aug 2024 | 1 | 2 | 3 | 4 | 5 | 6 | 7 | 8 | 9 | 10 | 11 | 12 | 13 | 14 | 15 | 16 | 17 | 18 | 19 | 20 | 21 | 22 | 23 | 24 | 25 | 26 | 27 | 28 | 29 | 30 | 31 |
| Sep 2024 | 1 | 2 | 3 | 4 | 5 | 6 | 7 | 8 | 9 | 10 | 11 | 12 | 13 | 14 | 15 | 16 | 17 | 18 | 19 | 20 | 21 | 22 | 23 | 24 | 25 | 26 | 27 | 28 | 29 | 30 | |
| Oct 2024 | 1 | 2 | 3 | 4 | 5 | 6 | 7 | 8 | 9 | 10 | 11 | 12 | 13 | 14 | 15 | 16 | 17 | 18 | 19 | 20 | 21 | 22 | 23 | 24 | 25 | 26 | 27 | 28 | 29 | 30 | 31 |
| Nov 2024 | 1 | 2 | 3 | 4 | 5 | 6 | 7 | 8 | 9 | 10 | 11 | 12 | 13 | 14 | 15 | 16 | 17 | 18 | 19 | 20 | 21 | 22 | 23 | 24 | 25 | 26 | 27 | 28 | 29 | 30 | |
---